With the varying regulations for goods retailed within different regions of the world importers often face the challenge of re or over products. Alternatively the importer will face the high costs of low volume custom artwork supply pricing from their overseas suppliers.
A major video games distributor approached us with the task of applying small labels onto video game covers. That company needed to comply with unique game ratings requirements and barcode requirements. In order to comply there needed to be up to four different labels placed onto their imported products.
Importer Product Labeler Machine Requirements Solved
The label applicators had to apply small labels more consistently than their manual operations and help reduce the labour costs involved, while speeding up the throughput. Labeling machine accuracy was important and ease of machine set-up was paramount.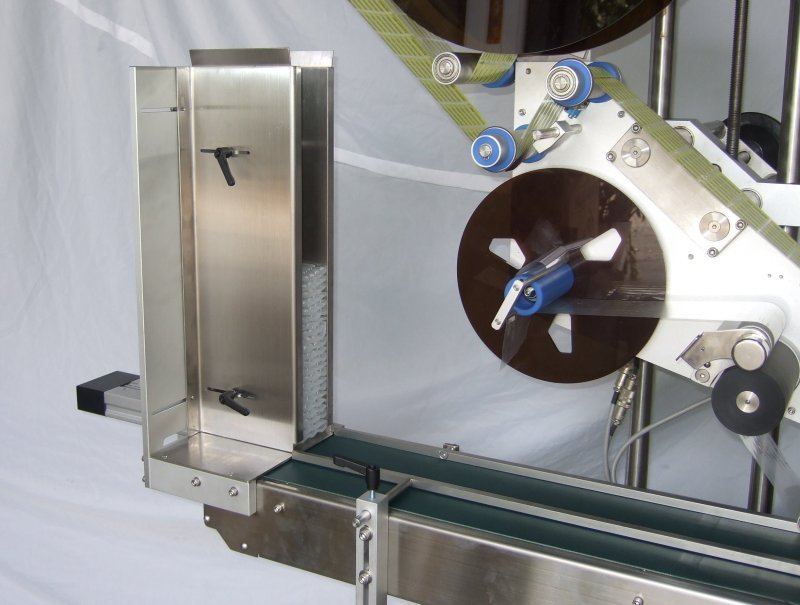 The proposal given involved a magazine feed operation where video games were loaded into a chute and fed onto a machine conveyor. From there the video games would labelled from the top, the bottom and from the side (along a spine).
As the placement of labels by the labeling machine would involve small labels covering existing sections of the artwork, product control and label feed accuracy were very important.
Remote Customer Support/Service
Working with phone calls, emails, Skype sessions, CAD drawings, example videos and samples the project was finalised; without face to face meetings. LabelOn™ design and electronic records makes project evaluation via modern communication a reality. It does not matter if you are next door or across the world a LabelOn™ label applicator configuration is easily tailored with real details. We do not need to use slick salesmen; if we get to deal with the Manager or an Engineer then we are confident our machine discussions and proposal will enable a confident and best value proposition decision for your company.
Ahead of receiving their machines, The Video Games client worked with a "cloud" directory containing all the paperwork, machine pictures and operating video, comprehensive spare parts listing – even shipping details. This communications protocol has now evolved to our proprietary Client Gallery System
Top and Bottom Labeler Machine
Importer label applicators are often provided as a top and bottom configuration because the imported items are often boxed. Importers of goods in boxes may need to over label Cereals, Biscuits, Pharmaceuticals or Cosmetics. These importers can all benefit by using self-adhesive machines and obtaining volume pricing from overseas distributors.
Benefits of the LabelOn™ Machines
Should you install LabelOn™ machines there will be a number of benefits that should become self-evident within days.
Every Physical Module adjustment and even the Rail adjustments have a rule or scale for recording.

Large Hand-wheels on Modules to make adjustments easily and accurately

Label Heads Driven with Five phase (not two phase) Stepping Motors; resulting in smoother and higher resolution label movements – making it possible to start and stop the labels more accurately

Label Heads often fitted with Spring Loaded Wipers; resulting in even label wipe down pressure

Label Heads fitted with roll diameter capacity of 380mm (Compared to 320mm of most others) – If you were considering say a 90mm Dairy labels this would increase the number of labels from about 5500 per roll to 8300 per roll

Overhead Conveyor fitted with a Servo Motor; resulting in a smoother, quieter and cooler operation

Overhead Conveyor fitted with independently moving spring feet behind the belt; reducing the "bridging problem" where normal bottle variation can lead to two taller bottles either side of a shorter bottle having reduced or no hold down pressure during label application and wipe down

Main Conveyor fitted with a variable speed A/C motor providing high resolution encoder position and speed feedback; resulting in smoother, quieter and cooler operation and – making it possible to initiate a label feed with more timing/position

Controls Mounted on a swivel arm; making it possible to adjust machine settings from both sides of the machine

Touch Panel Controls with memory to hold 120 Jobs

Machine Status Light Tower; Enabling a quick glance from a distance to gauge what mode the machine is in

Standard PLC and Motor Drivers – making spare parts an assured thing and preventing the "charge what you want" approach from machine suppliers with custom control boards and motor drivers

Plugs for all electronics and internal wiring clearly labelled, laid out and easily accessible; making service and repair fast and easy.

3-D mechanical model records enabling live internet connection discussions to quickly and visually drill down to any part on the machine – for service, adjustment and replacement discussions (requires a Skype account)