Manual Labeling Machine Bottle
When it comes to upgrading from hand-applying your product labels to the use of a manual bottle labeler machine, ease and convenience are at the forefront of the plan. A great step up from this type of application can be found in LabelOn™ 's lineup of Benchtop Labeling Machines, capable of meeting your business' demands without the bulk and bigger footprint of other machines. This manual labeler machine is the next step in upgrading your production line. 
Our LabelOn™ Manual Labeler Machine for cans and bottles allows for easy labeling of round bottles, cans or jars made of either glass or plastic. It provides the flexibility and speed in production that you need without worrying about the hefty price tag. 
This can labelling machine can handle continuous labeling without the need for manual alignment of the labels as they are placed onto your round products. Unlike hand application of labels, this is a significant improvement in the labelling process, allowing you to focus on other aspects of the production process, and not just on the proper application of labels. This feature allows for minimal intervention, boosting efficiency in your production. Another great aspect of the machine is its waste take-up system which creates a clean workspace, all while preventing slippage of the wastes all over the work area. 
This can or bottle labelling machine is small but it proves time and time again to be a powerhouse in its many applications. It can label upwards of 1000 products in a week. It has a three-roller label application system that can ensure excellent alignment of the leading and trailing edge of labels as they wrap around the product, preserving accuracy as it speeds up production. This small labeler machine also boasts a pointer/reference bar positioned over the label path that lets you know when a label has been dispensed and when to stop advancing the label with the hand crank. 
Manual Labeler Machine Configuration
Our labeler machine proves its versatility in its different configurations. It can be used to apply either one or two labels on your products (front and back) even when the labels are from the same roll. This is achieved by adding another pointer to the machine, so that it is able to physically advance the rotation of the glass bottle, jar, or can without necessitating the use of the hand crank. Once the first label is applied, then you can resume the hand crank operation in order to apply the second label. This design is not readily found in other machines and will prove beneficial when you decide to branch out and enhance your own production output in the future.
Because of its multiple capabilities, you can be sure that this machine can keep up with your business' innovations. With LabelOn™ 's exemplary machine technology, you are afforded impeccable machines to cater for all your manual labelling needs. The LabelOn™ Manual Benchtop Round Labeler Machine can not only meet but actually surpass, the needs of your production line, without sacrificing precision or carrying with it a hefty price tag. 
Can Labeling Machine
This economic Manual Labeler Machine can easily label round bottles or jars, either glass or plastic.  It can also be used as a manual can labeling machine.  Our manual bottle labeling machine can get through your days of labeling aligning the label onto your round products.  A waste take-up creates a clean and efficient workspace that does not slip around on a table.
Our Small Label Applicator Machine
Weighing approximately 35 lbs
This unit occupies a footprint of 24″ (61cm) x 16″ (41cm)
For round products from 1/2″ up to 5″ in diameter.
Label width from 1″ up to 5″
Label length from 1″ to 10″
Label rolls with 1″ and 3″ cores
And holding labels up to 12″ (305) in Diameter
This unit is more than a toy.
And very reasonably priced.
The three Rollers label application ensures excellent alignment of the leading and trailing edge of labels as they are wrapped around a cylindrical product.
If you are labeling 100+ items a day this is a great next step.
There is a pointer/reference bar that sits over the label path so you can know when a label has been dispensed and when to stop advancing the label with the hand crank.
For two labels applied from the same roll – Front then Back:
This manual labeling machine for round product configuration also can add another pointer so you can physically advance the rotation of the glass bottle, jar, or container without the hand crank – after applying the first label, you resume the hand crank operation to apply a second label.
While you are thinking about taking this step, you are probably also a good candidate (label volume) to look into the Epson 3500 printers. We have a number of Print and Then Apply solutions to offer.
Manual Benchtop Round Bottler Labeler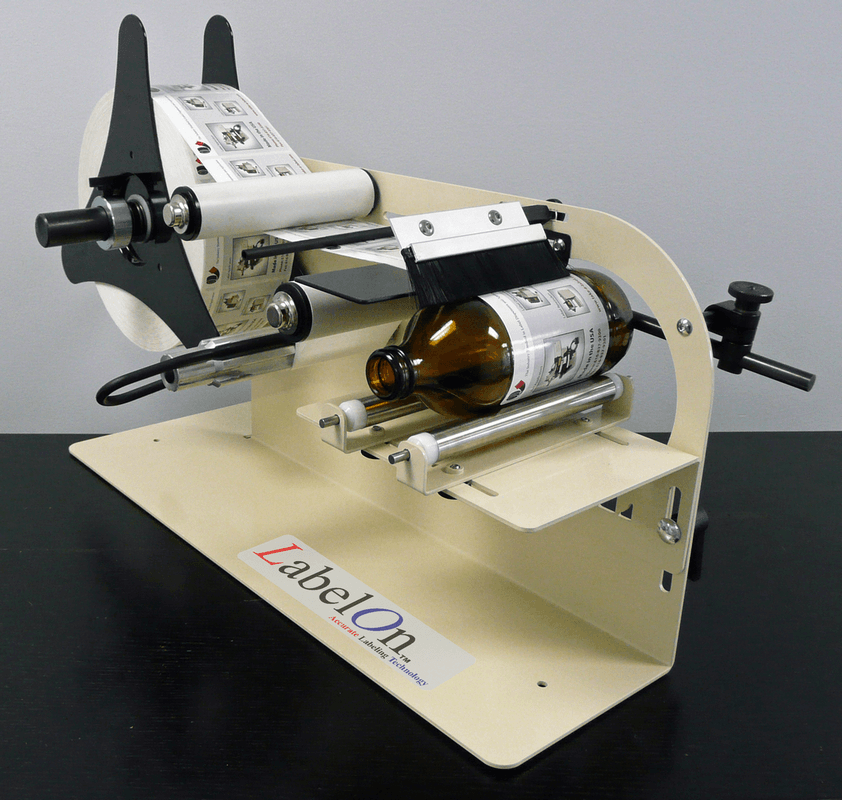 Manual Benchtop Round Product
Labeling Machine Specifications:
Series: LabelOn™ Manual Benchtop
Model: Round Products 1 or 2 Labels (optional)
Labeling accuracy: ±1.0mm±1/16th "
Typical Labeling speed: 3 to 8 Pieces / min
Product Height: 25.4 mm (1″) to 304mm (12″)
Product Diameter: 12.70 mm(½ ") to 127mm (5.0")
Label Length: 25.4 mm (1″) to 304mm (12″)
Label Height: 25.4 mm (1″) to 127mm (5″)
Label Roll Core: ID Φ25.4 mm (1″) or 76 mm (3″)
Label Roll Diameter: Maximum OD Φ304mm (12″)
Machine Dimensions: (L × W × H) 610mm (24″)×406mm (16″) ×356mm (14″)
Power supply: Not Required
Air Pressure (PSI): Not Required
Adjustable Product Holder to do Diameters: ½" to 5 "
Recommended for Labeling EMPTY Bottles/Jars