Manual Labeler Machine
This economic Manual Labeler Machine can easily label round bottles or jars, either glass or plastic. It can also be used as a manual can labeling machine. Our manual bottle labeling machine can get through your days of labeling aligning the label onto your round products. A waste take-up creates a clean and efficient workspace that does not slip around on a table.
Our Small Label Applicator Machine
Weighing approximately 35 lbs
This unit occupies a footprint of 24″ (61cm) x 16″ (41cm)
For round products from 1/2″ up to 5″ in diameter.
Label width from 1″ up to 5″
Label length from 1″ to 10″
Label rolls with 1″ and 3″ cores
And holding labels up to 12″ (305) in Diameter
This unit is more than a toy.
And very reasonably priced.
The three Rollers label application ensures excellent alignment of the leading and trailing edge of labels as they are wrapped around a cylindrical product.
If you are labeling 100+ items a day this is a great next step.
There is a pointer/reference bar that sits over the label path so you can know when a label has been dispensed and when to stop advancing the label with the hand crank.
For two labels applied from the same roll – Front then Back:
This manual labeling machine for round product configuration also can add another pointer so you can physically advance the rotation of the glass bottle, jar, or container without the hand crank – after applying the first label, you resume the hand crank operation to apply a second label.
While you are thinking about taking this step, you are probably also a good candidate (label volume) to look into the Epson 3500 printers. We have a number of Print and Then Apply solutions to offer.
Manual Benchtop Round Bottler Labeler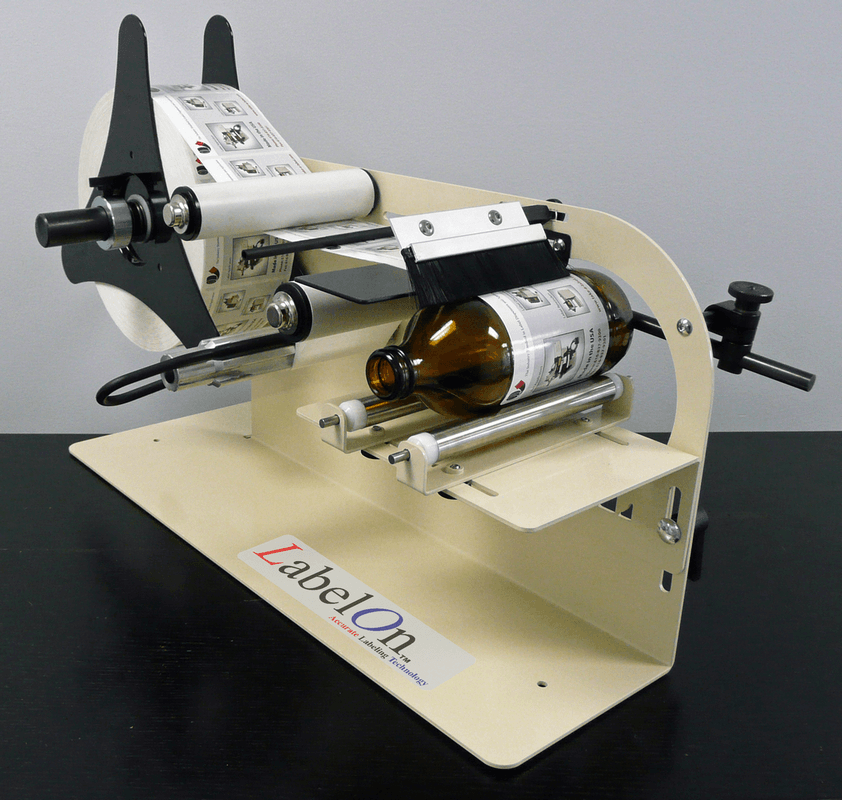 Manual Benchtop Round Product
Labeling Machine Specifications:
Series: LabelOn™ Manual Benchtop
Model: Round Products 1 or 2 Labels (optional)
Labeling accuracy: ±1.0mm±1/16th "
Typical Labeling speed: 3 to 8 Pieces / min
Product Height: 25.4 mm (1″) to 304mm (12″)
Product Diameter: 12.70 mm(½ ") to 127mm (5.0")
Label Length: 25.4 mm (1″) to 304mm (12″)
Label Height: 25.4 mm (1″) to 127mm (5″)
Label Roll Core: ID Φ25.4 mm (1″) or 76 mm (3″)
Label Roll Diameter: Maximum OD Φ304mm (12″)
Machine Dimensions: (L × W × H) 610mm (24″)×406mm (16″) ×356mm (14″)
Power supply: Not Required
Air Pressure (PSI): Not Required
Adjustable Product Holder to do Diameters: ½" to 5 "
Recommended for Labeling EMPTY Bottles/Jars