Product labeling can be a hit-or-miss process. From the time it is drafted all the way to when the label goes to the printers, it requires skill, time, and patience. Once the label is finalized, printing it, in itself, can be an arduous process. There are plenty of factors to consider but if done correctly, then your production becomes a whole lot easier. If however, problems arise in the printing stage, then certainly, it will be another issue you'll need to overcome. That's where the trusted Print and Apply Label Applicators come in. 
Print and Apply Labeling
With the nuances you've overcome in deliberating what you need to print on these labels, it makes a lot of sense to be wise with every detail. The data incorporated into these labels, though inconsequential to some, are of great importance to you and your business. Everything from the barcodes, to the QR codes, to the personal touch and graphics employed to make that final look possible are the trademark with which people will associate your brand. It is therefore imperative that even the printing and label application processes are also up to your standards.
And these are exactly what makes print and apply label applicators so great. These handy machines allow you to print your own labels and then directly apply them to your containers without the hassle of involving a third party. Once you've set the machine up, you can relax knowing that your labels will come out perfectly each time and then have them be exactly the width and length you need. 
Advantages of Using Print and Apply Label Applicators
Print and apply labelers also have the added advantage of you controlling the kind of material your label will be made out of. Yes, you could also have a third party do this for you, but the costs will certainly pile up more if you choose to have someone else do it for you. These printing and labeler machines are cost-saving as well because they allow you the flexibility of changing the number of labels printed to suit only what you need. Therefore, you won't have to worry about any surplus or wasted labels. 
Another important aspect that is made easy by having these machines is that you can have everything in-house. You save the time you would have allocated to having the labels printed elsewhere and then shipped out to you. Less hassle for you, and better efficiency all around. 
A great advantage as well of these Print and Apply Label Machines is that they allow for closer monitoring of your labels. Any misprint, any issues which may take days or weeks to address to the third-party printing them, would be handled within hours if the printing is managed in-house. Plus, you have the added benefit of being able to fix the issue without wasting hundreds of labels already printed because you managed to address the problem before the day is even out. 
What's more is that with these machines, you are able to customize batches of labels yourself. You won't need to pay another party to do it, saving your costs and allowing you to experiment with novel ideas without worrying about breaking the bank. For those special edition products you have, this may just be an important feature to look forward to with Print and Apply Label Machines.
Different labeling techniques may also be employed depending on the type of container and the label material you will use. These configurations are inputted into the system, so you can just stand back and supervise. The labels are printed exactly to your specifications and then applied exactly to your liking.
An Industrial Full-Color Retail Label Printer With An Industrial Bench Top Label Applicator, You can now Print and Apply Your Own Retail Quality Labels.
With LabelOn™'s extensive lineup, you are given multiple options of labeling machines depending on your company's needs. The different models easily integrate into your current setup and even with each other, giving you the ability to expand your repertoire of apparatuses without compromising your existing setup. These impressive LabelOn™ machines may just be what you need to boost your production and propel your business to the next level.
You have control of your labels
You make the label changes without waiting
You can develop your range – Minimum label print runs will no longer stop you
You can customize batches of labels
You do not need to wait for labels to be printed and then shipped
Create Your Own Personalized Label Designs
Personalize your design down to the smallest detail. Once you have created a label template, you can start printing and applying labels to your products.
The Printer, The Applicator, and your first 20,000 labels printed under $20K.
---
---
---
---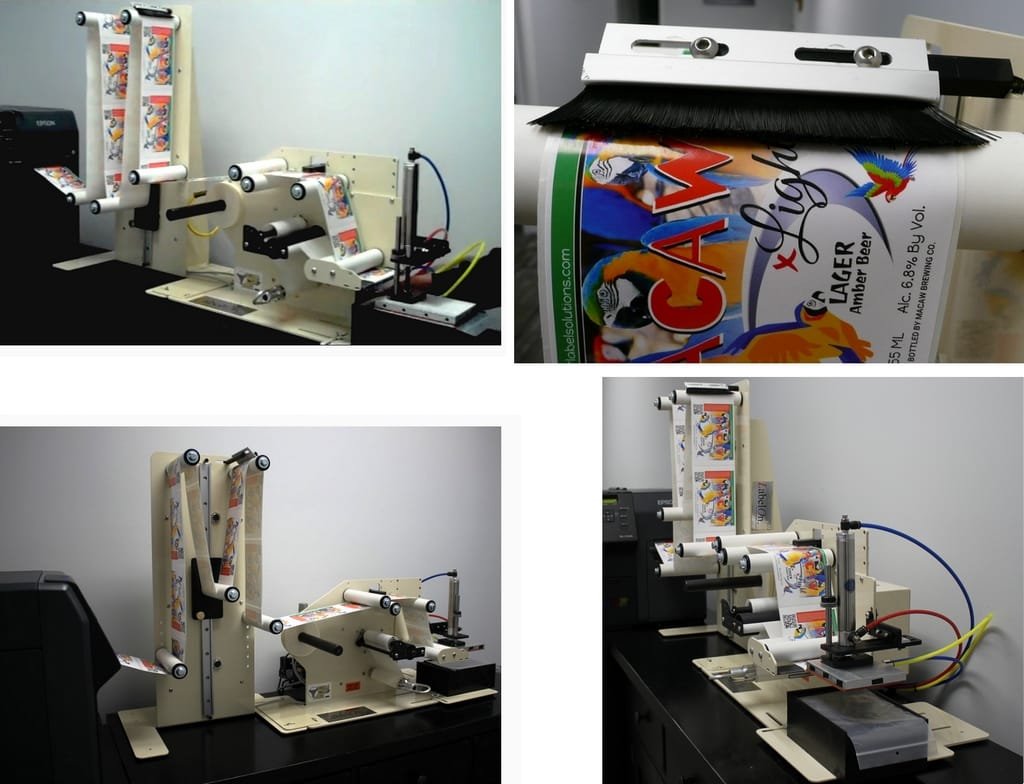 ---
---
Epson 7500 Working with LabelOn™
Benchtop Round Labeler
Label Machine Specifications:
Series: LabelOn™ Benchtop
Model: Round Products
Labeling accuracy: ±1/16th inch
Typical Labeling speed: 5 to 20 Pieces / min
Product Height: 1.0 inch to 12.0 inch
Product Diameter: ¼ inch to 6.5 inch
Label Length: ½ inch to 12.0 inch
Label Web Height: ½ inch to 5.0 inch
Label Roll Core: ID Φ 3 inch
Label Roll Diameter: OD Φ up to 12 inch
Label Machine Dimensions:
(L × W × H) 30 inch×16 inch×17 inch
Power supply: 110V 50/60HZ
Total Power: 200W (Approximately)
Air Pressure (PSI): 40+ PSI

Flat and Near Flat Labeler
Label Machine Specifications:
Series: LabelOn™ Benchtop
Model: Flat and Near Flat
Labeling accuracy: ±1/16th inch
Typical Labeling speed: 5 to 20 Pieces/min
Product Height: 1.0 inch to 7.5 inch
Product Width: 1.0 inch to 7.5 inch
Product Thickness: 0.1 inches to 7.5 inch
Label Length: ½ inch to 5.0 inch
Label Web Height: ½ inch to 5.0 inch
Label Roll Core: ID Φ 3 inch
Label Roll Diameter: OD Φ up to 12 inch
Label Machine Dimensions:
(L × W × H) 28 inch×15¼ inch×14 inch
Power supply: 110V 50/60HZ
Total Power: 200W (Approximately)
Air Pressure (PSI): 40+ PSI

It is a Real Value Proposition:
The Epson TMC7500/G Paired with our LabelOn™ Loop Benchtop Solution Series:
Epson's most advanced print head technology "PrecisionCore line head "
– Max. 300 mm/s high-speed printing
– 600(H) dpi High print resolution
– Fine text. Bar-code printing
– Clear gradation printing
– High reliability with Nozzle Verification Technology
Command control enable to minimize system re-design
– ZPL emulation
– ESC/Label command language
– Onboard template manager
Designed for industrial use
Continuous printing
– 8inch diameter roll paper
– Big volume Ink cartridge
– Original winder/re-winder(option)
High durability
– Long life(MCBF)
– Metal case
– Pigment ink
Expandability
– input/output external connection port (I/O port)
You can have your Printer, your Applicator, and your first 20,000 labels printed for under $20K
Epson ColorWorks C7500
Take the Tour of the Industrial Color Label Printer