The LabelOn™ Label Dispenser 
LabelOn™ brings you fast and easy label dispensing with an Automatic Label Dispenser. Gets the job done quickly; saves you time and money by efficient operation without the hassle of wasted labels.
If there exists a catchphrase for any business to draw in their customers, it is "packaging is everything." However, this simple sentence carries with it a lot of heft with all of the burdens of making a good label and then having each label placed perfectly on your product each time. 
Label Dispensers
Label roll dispensers cut and present your labels for you and can be pre-programmed to ensure that immaculate cut each time and reducing the chance for error. The machines can be programmed to fit your label's length and even adapt to the material you use, ensuring you have each label ready for immediate use.
Each label can be easily stripped from its backing, lessening not just the fuss with dispensing each label by hand, but also the time you'll need to get each label on your products. Investing in the LabelOn™ Dispenser makes your labeling process more efficient, allowing you to boost productivity. And with our machine's small footprint, you won't worry about space for your other equipment, making this a perfect addition to your production line. 
The LabelOn™ Label Roll Dispenser also has optional attachments to make the job even easier.
Photo Cell Label Sensor

Ink Jet Printer

Heavy Duty Cooling Fan

Fan Fold Adapter

Label Counter

18" Roll Adapter

High-Speed Motor
Common Issues with Manual Hand Labeling
Common problems encountered with manual hand labeling are easily avoided with this simple but effective dispenser rack.
Issues with labels not being dispensed properly and ending up causing applicator jams

labels preferring to stay on the rolls instead of the product

the label liner curling up or peeling off 

labels falling off the roll 
And with the option of the inkjet printer, you're always in the know about date/batch information. 
This reliable machine gives you all the perks of a label automatic dispenser without breaking the bank. With all the hassle and frustration you don't need to endure, this impeccable machine practically pays for itself. You no longer need to worry about your labeling needs with the indispensable LabelOn™ Label Roll Dispenser!
Economic Start-up Dispenser
Very reasonably priced, this label machine dispenser can get you through your label application days.
Common Option(s):
Stainless Steel
Photo Cell Label Sensor
Ink Jet Coder
Upgrade to Label Web Width 7.5"
Label Dispenser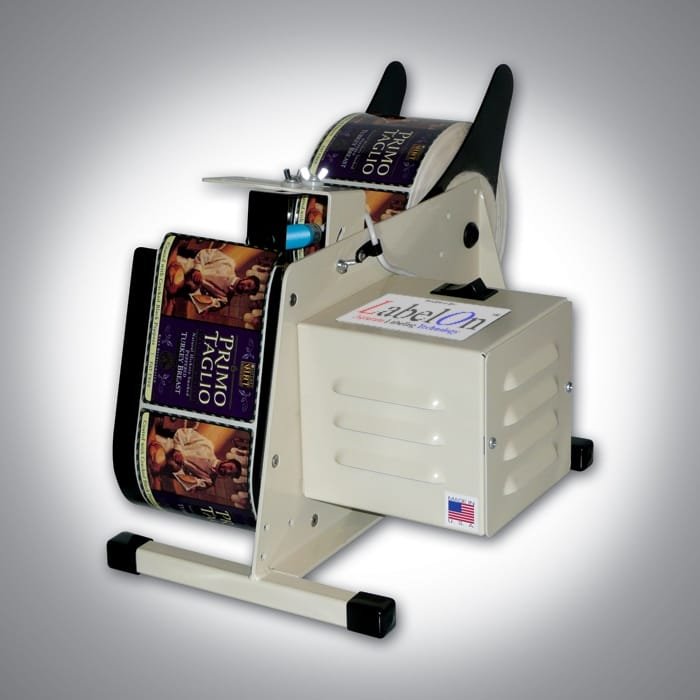 Label Dispenser Specifications:
Series: LabelOn™ Benchtop
Model: Label Dispenser
Labeling accuracy: N/A
Typical Labeling speed: 3 to 10 Pieces / min
Label Length: 25.4 mm (1″) to 608mm (24″)
Label Web Width: 9.5 mm (⅜″) to 114mm (4.5″)
Machine Dimensions (L × W × H) 510mm (20″)×380mm (15″) ×305mm (12″)
Power supply: 110V AC or 230 AC
Label Roll Core: ID Φ25.4 mm (1″) or 76 mm (3″)
Label Roll Diameter: Maximum OD Φ304mm (12″)