Label Applicator Machine
In the world of label application machine, versatility and performance are two of the most important aspects to be considered. If your products require multiple labels or you just need specific data on either side of your packaging, then top and bottom labeling machines may just be what you need. 
Top and bottom label applicator machines are designed to apply two labels to your product. Once the products are on the conveyor, the machine is configured to apply the labels simultaneously, saving you the time and effort it would take to replace these products back onto a different conveyor for them to be labeled again. 
These label application machines are widely used in various industries, including pharmaceuticals, cosmetics, and the food industry. Barcodes, nutritional facts, expiration dates, batch numbers, and other information which are usually not put on the top label, may be included in the bottom label, thereby presenting all the essential information for the consumers without compromising the aesthetics of your product. 
These label application equipment are also versatile though. They can still be configured so as to only place only top labels onto the product. So depending on the type of product you want to label, you may not even need separate machines to get the job done. Plus, since the label application machine can do both top and bottom labeling all on its own, you can practically double the time it'll take for you to finish labeling, since you won't need to manually replace each individual product for the second batch of labeling, saving you time and making the whole process more efficient. 
With LabelOn™'s Basic Automatic Label Applicators, your production line is sure to have its well-deserved boost. This range of label application machine can accommodate more than 10,000 labels applied per week and are a budget-friendly option for you with the essential features you'll need to meet the demands of your growing business. 
Top and Bottom Labeling
LabelOn™ Basic is the range of equipment we offer clients on a tight budget with more basic requirements. You get what you pay for, only with the LabelOn™ Basic labeling applicator machine you also have the benefit of equipment closely related to the LabelOn™ Modular range; an unparalleled label application equipment in its class of in-line labellers. With this LabelOn™ Basic range of Label Applicators, you can get a very clear picture of what measures are taken to achieve a more basic and more budget labeling machine that will fit the requirements of those under budget pressure to get a job done as efficiently as possible.
The LabelOn™ Basic range of labeling applicator machines includes models that can label 1 or 2 panels of a flat bottom/top product from above and below. Also, an Overhead Conveyor can be added to help stabilize the product during conveyor transfer.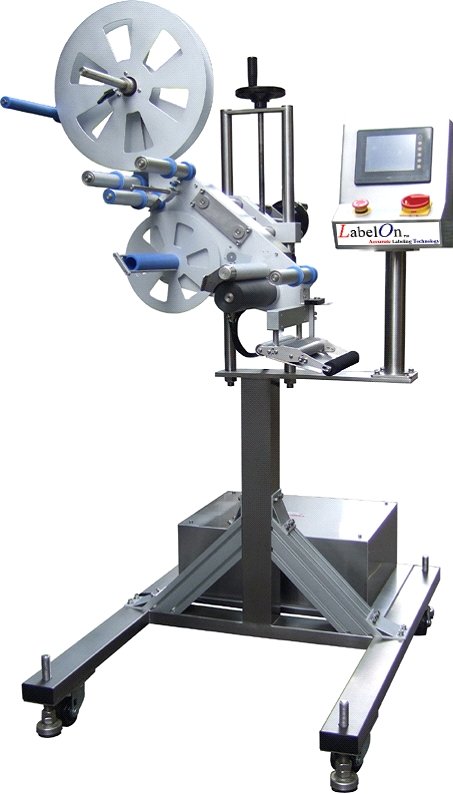 Features:
Repeatability – All Electronic settings/parameters of your production job can be saved on the touch screen allowing exact repeatability between runs.
Touch Screen Controls – has easy-to-use and easy-to-understand su_buttons. There is also machine status information and troubleshooting menus.
Five Phase Stepper Motors – The label heads are fitted with high resolution Five Phase stepper motors enabling for smooth and very accurate label feeding.
Auto Setting Label Gap Sensor – The Sensor will pick up on different types of baking paper and adjust the label gap sensor automatically.
LABEL SPECIFICATIONS THAT CAN BE CATERED FOR:
Label minimum thickness – 70micron

Label reel core size 76mm inside diameter

Label reel outside diameter 380mm (std)

Label minimum size – Vertical 15mm/Horizontal 15mm

Label web maximum height –160mm (selected at the time of order)

Label gap minimum size – 2.5mm
LABELLING HEAD SPECIFICATIONS:
Speed Synchornised to Label Feed

Dispensing speed minimum – 5m/min (Standard)

Dispensing speed maximum – 30m/min (Standard)

Label accuracy ± 1.00mm – not including variations due to the Bottles or Labels

Stepper motor drive – 5 Phase – Note older machine designs use a 2 Phase Motor that is more Coarse and Hot in operation

Missing label detection (Standard)

Low-level roll detection (Standard)

Un-locked Drive Roller Assembly alarm (Standard)

Clear label gap sensor (optional)
MACHINE CONVEYOR:
Conveyor speed 5 – 30 m/min (Standard)

Conveyor Height 820mm – 870 mm (Standard)

Conveyor Length 1450 mm (Standard)

Conveyor material – PU Belt/Rollers

Conveyor widths – 160mm (Standard)

Conveyor Non-Stalling Motor Drive with Continuous Speed Feedback (Standard)
MODULES:
Overhead conveyor – Servo Motor Driven

Side grip twin belt transfer system
OTHER FEATURES AND OPTIONS
Coder – thermal or inkjet