Model RFID100
The RFID100 is a flexible "multi-purpose" Print & apply solution that suits many applications within box and product labeling
Meeting demands for both accuracy and speed. It writes Gen2 tag while printing the barcode Label.
It is very easy to create layouts with variable barcodes through the included Label edit software.You can also use simple programming instructions to achieve variable EPC or USER.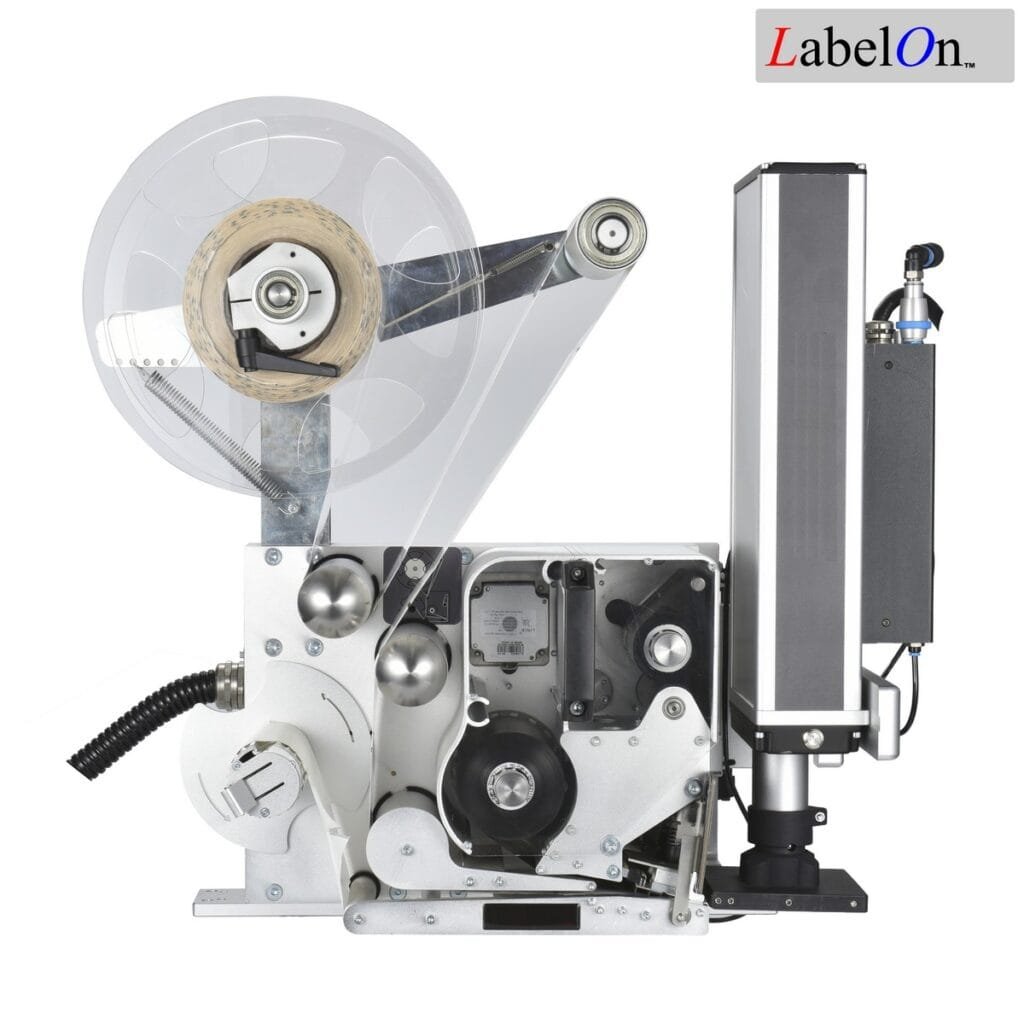 The diameter of label pass roller is up to 50mm to
avoid damage to the RFID antenna due to small turning radius.
Box, tray and parcel labeling. Applies on both moving and stationary products.
What you see is what you get, Label information.
Displayed on 7-inch color screen real time.
Technical Data:
Applicator:                     Tamp/Blow, Blow can be switched off
Tamp size:                      6 standard sizes, customized available.
Print Speed:                   150mm/s
Resolution:                    300dpi
Interface:                       RS232,USB,Ethernet,WIFI Option
Dimensions: 
588×625×280mm (l×h×w) – P&A
402×150×290mm (l×h×w) – PCU
Barcode Handling:
Code128, Code39 etc, GS1 Code
QR code, DM, Pdf417, Hanxin etc.
RFID:
Global frequency support. Complying
with UHF Gen2 requirements.
Automatic/customized Tag writing
Controller functions: 
Online & Standalone operation,
7-inch color display and touchscreen
10 input, 10 outputs. Real time clock,
counters, date offsets, multi-language,
Label Preview in real time,
Multi-Fonts download…
Fast Facts:
Printer:                 4" thermal transfer
Application:
Side, Top or Bottom labeling
Stationary or moving objects.
Labelsize:          30×30mm –110×110mm
Consumables: 600M
Distance:            0-160mm (Multiple lengths available)
       Available in both left & right-hand versions.
Other Accessories:
Low Label Detection
Label on applicator pad Check
Check Scanners (Option)
Alarm – flashing light/beacon (Option)
RFID fail eject (Option)