Comparing Plastic Bottles or Glass Bottle Labeling
1. Product Handling
With glass bottle labeling, you need to be more careful with product handling as glass breaks. Extra precautions include ensuring there are no places where a build-up of the product would result in an overflow of product that would fall off the machine. Glass bottles can "catch" on one another and cause jams. Pinch points can shatter glass where plastic bottles will simply crumple. Some product handling can result in jams under just the wrong conditions because the glass jar will not budge in shape.
2. Labeling Surface Consistency
Plastic jars and Glass products can have crappy labeling surfaces or inconsistent shapes and labeling surfaces.
When dealing with round glass jars, we have found higher pressure of application along with softer application rollers produces better results where there are undulations on the surface.
With Plastic bottles you don't have the luxury of applying more pressure as the bottle will deform.
In both plastic and glass labeling, the best solution is to change supply and find good quality packaging where there is no labeling surface undulations.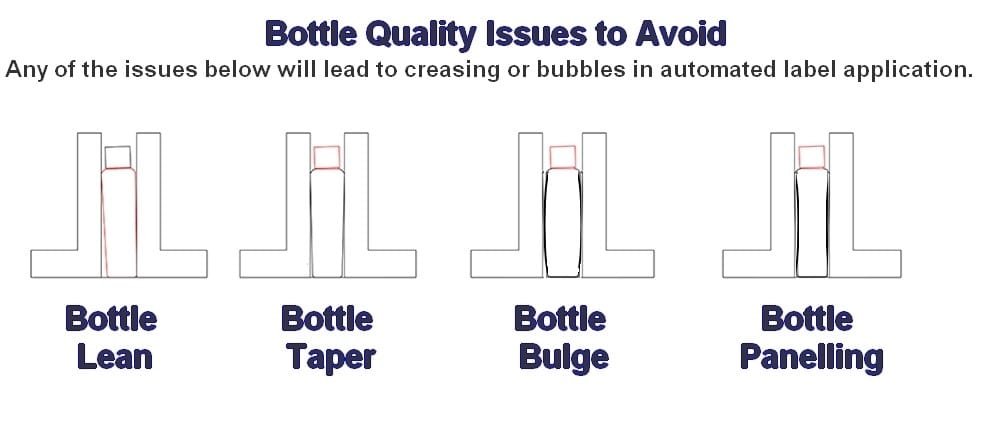 3. Adhesives and the Surface
Adhesives will perform differently with both Glass bottles and Plastic bottles.
With clear labels there is a term called adhesive wet-out where small microbubbles, visible just after application, simply "go away".
It's a good idea to check with your label stock supplier if the adhesive on your labels is well matched to glass or plastic depending on the products you are labeling.
4. Shape Changing
In some cases, plastic containers will change shape or panel with different temperatures or with certain contents where gases are either produced or consumed within a sealed container. On a labeled container this can lead to creases or bubbles appearing after what looks like a smooth label application. A glass bottle is very unlikely to have these types of issues.
5. Static Electricity
Plastic containers, compared to glass, are more likely to build up static electricity and this can affect label application and lead to bubbles or creases.
6. Outgassing
In some cases plastic can give off a gas or even let gasses pass through its walls. This can create bubbles on what looks like a previously well labeled product.
In most cases, if we have a representative sample of products to examine, and a short video of the current labeling process, we will be able to identify where the source of problem bubbles or creases is coming from.