Labeling equipment, whether manual, semi-automatic or fully automatic, can bring about significant improvement to your business, not just with regards to your workflow but with its effect on productivity and efficiency. Automating your labeling process can also be the next step up that you'll need to propel your production forward and ensure survival in a highly competitive market. 
There are always numerous aspects to consider prior to investing in the right labeling equipment. Besides the costs directly related to the machine purchase and the materials you'll need when operating a said machine, there are also unmentioned costs regarding this label application equipment which you will need to keep in mind before your big-ticket purchase. However, these costs are often outweighed by the benefits brought about by an automated labeling process. 
Key Benefits of Automated Label Equipment
Your product labeling process, once automated, can provide the following benefits:
Significantly increased production capacity

Labor savings on a per-unit basis

Consistency of label application and the product's shelf appearance (especially important in the pilot launch volumes stage)
These benefits are, of course, incorporated with your label equipment purchase and so, first, establishing your budget is a necessary step prior to buying your chosen labeler machine. Allocating a capital expenditure budget will enable you to maximize the operational benefits which are available when selecting your labeling equipment. 
There is a significant number of labeling machine suppliers in the market today. Their prices can range from almost unbelievably low-cost machines to high-end machinery priced in the tens of thousands of dollars. When considering the latter and more expensive options, the thinking needs to change from looking for the lowest cost option to looking for the "Best Value" option. 
Unmentioned Costs with Operating Labeling Equipment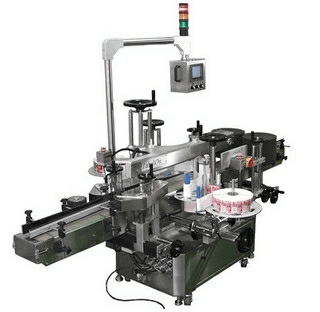 Maintenance and Servicing – Many higher-end label machine suppliers have significant size service departments and these service departments often report as separate operating units within the machine suppliers company, operating units that have to make a profit. To this end, there is often little incentive for these labeler machine suppliers to provide labeling equipment that is intuitive to self-service or to supply parts at a low-cost-plus-margin basis. These suppliers usually charge high call-out fees and hourly rates. On the upside, you do get service and can operate with less technical staff or less technical contractors. On the flip side, low-end machinery suppliers may not have adequate communications, machine records, or service capabilities.
Product Change-Over on Lower-end or basic labeling machines – are more dedicated and may not be able to accommodate many variations in your product or label requirements. If they can accommodate for product changes, the change over time can extend into many hours-long processes requiring a great deal of fiddling to get right.
Staff Acceptance – Often overlooked, machinery that is not intuitive or looks daunting to operate and service can be a hard sell to your operating staff. This cost can be the most costly one as machinery not properly accepted by staff will not be utilized or maintained properly.
Label Applicator Prices
The choice of labeling machinery that you will need to consider will depend on your label application equipment needs. If you have enough budget allocated, investing in medium- or high-end labeling machinery may be necessary. Low-end machinery is great for the most basic of applications with few to no product change-overs during the production process. High-end labeling machinery is great for the most demanding high-speed volume applications and offers significant upgrades from their more inexpensive counterparts. Medium-end labeling machines offer the middle ground and can cover most applications, especially where some versatility is required. 
LabelOn™ can provide you with machinery to cover all of your labeling needs. If you are in the market for reliable and durable labeling equipment at competitive pricing, look no further than LabelOn™!