Plastic Bag Labeling | Flat Case Labeling
LabelOn™ Plastic Bag Labeling Machine | Flat Case Labeling Machine is helping you take the step from hand applying to machine-applied labels.
This Flat Label Applicator Machine – Made in the US, solves the problem of labeling Flat Bags, Flat Sheets, Flat Cases with a benchtop labeling machine.
A good first step is to move to a Benchtop labeling machine.
Benchtop Flat Box Labeler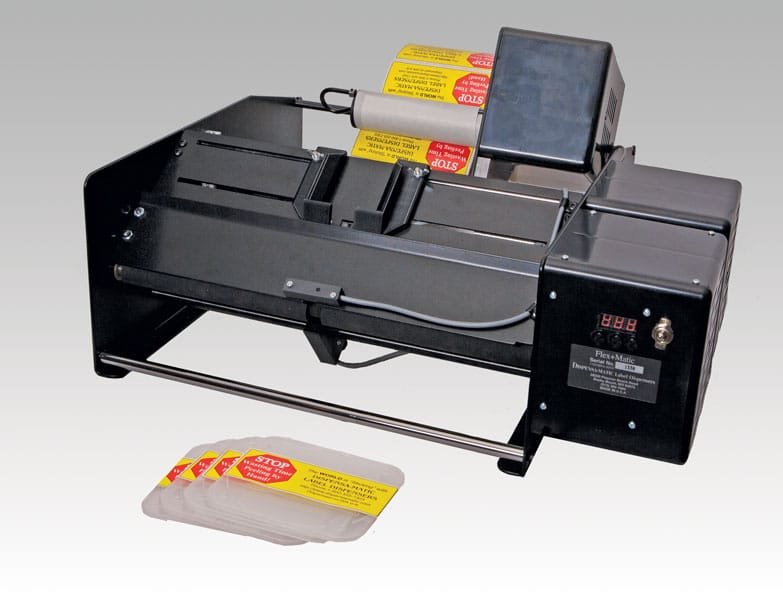 Label Dispenser Machine Specifications:
Series:   LabelOn™ Benchtop Labeling Machines
Model:   Flat Pack Flat Bag Flex-Matic
Suit Product Width:  50 mm (2 ") to 298mm (11¾ ″) Wide
Suit Product Thickness:  Up to 6.5 mm (¼ ")
Labeling accuracy:  +/-  1.5 mm (¹⁄₁₆ ″)
Typical Labeling speed:  10 to 20 Pieces / min
Label Length:  25.4 mm (1″)  to 380mm (15″)
Label Web Width:  38 mm (1.5 ″)  to 203 mm (8.0″)
Minimum Label Width: 25 mm (1″)
Minimum Label Gap:  3.0mm (⅛ ″)
Minimum label thickness:   25.4 µm (1 mil) (subject to testing)
Machine Dimensions:  (L × W × H)  12″ × 20.0″ × 24″
Power supply:  115V AC
Label Roll Core:   ID 76 mm (3″)
Label Roll Diameter:   Maximum OD Φ228mm (9″)

LabelOn Flat Bag Flat Sheet Flat Case Flat Pack Labeler Video
Note: Minimum distance for the label from the leading edge is 22mm (⅞ ″)
Semi-Automatic Flexible packaging labeling up to 1/4″, Label bags, folded boxes, bags and other items up to 1/4″.
Includes automatic Label Counter and waste Re-Winder
The Standard Label Sensor is for Opaque Labels only.
For Transparent Labels: An optional "black line" sensor is available on request (special order lead time, no charge).
Label Bags, envelopes, pouches, PCBs, and even slimline CD/DVD cases. Able to handle most plastic bags without difficulty.
5″ per second product feed; most objects are labeled in less than 2 seconds.
Position adjustment is quick and easy using the digital settings for desired vertical positions and using product and label guides for the desired horizontal position.
Product Details:
Side frames: Laser-Cut steel which is formed, countersunk, deburred, and inspected one at a time at our facility.
Dispensing Tables: formed out of 6061-T6 Aluminum.
The peel edge is hand-milled to spec within .001″ using a special hand-made cutting tool to get that perfect peeling edge needed to dispense labels without tearing the backing paper. ( Dispensing tables are POLISHED with the ultra-fine polishing compound so paper flows freely around the plate.
Motors: This unit uses DUAL motors that are shaded pole AC, and made in the USA (No CHEAP 12v motors here!)
While you are thinking about taking this step, you are probably also a good candidate (label volume) to look into the Epson 3500 or 7500 printers. We have a number of Print and Then Apply solutions to offer.
We are also able to guide you from your hand-applied stickers to the supply of roll form labels suitable for use on these Applicators
Call or Chat to Find out more
www.Label-On.com
Or for an instant chat
Click the Link:
https://view.label-on.com/chat