Automatic Bottle Label Machine
In any growing business, there are plenty of considerations made as to what machines will be of benefit to the production line. Before you decided to purchase one of the LabelOn™ Automatic Label Machines, a lot of planning was done regarding the boost in production that the automatic label applicator can bring, as well as how much better your crew and your life will be once the automatic bottle labeler can do the tedious tasks for you. As such, the purpose of the automatic bottle labeling machine is justified, and the level-up you wanted from owning the automatic label machines is achieved. 
Some of the considerations you had prior to buying the automatic label machine are power and efficiency, speed of production, and perhaps even the amount of manpower you'll need to incorporate for the automatic bottle label applicator to do its job best. You also weighed the pros and cons of investing in such a machine. Perhaps you even considered the size of the automatic jar labeling machine and how you're going to include it in your production line.
If space and budget are necessities (and in an efficient production line, they most certainly are), then look no further than the powerhouse LabelOn™ Mini Synergy. It comes with the strength and speed of bigger labeling machines, without the hassle of a big blueprint or a bulky design. This small automatic labeling machine packs a punch, enough to make your life a lot easier. With its numerous features, your growing business is in great hands, as this machine is an incredible workhorse that can meet your production's demands, without taking up all of that invaluable space. This automatic label applicator machine is a great step up from manual or even semi-automated labeling types, and will most certainly prove a great addition to your machine lineup.
With the LabelOn™ Mini Synergy, you'll have a budget-friendly automated labeling machine, packed in a small package that's worth its weight in gold.
LabelOn™ Mini Synergy
We've got you covered In the smallest of spaces!
Two of the most difficult production line problems faced can be finding the room and finding the budget for equipment to accurately place labels onto your product.
Check out our new LabelOn™ Mini Synergy Range:
These are Power House pieces of labeling equipment that can sit on a workbench top and get through serious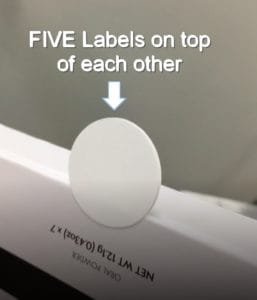 production.
See a video of the LabelOn™ Mini Synergy – Top Labeler in action hitting the mark Five times – one on top of the other! before we show its true function of providing tamper-evident labeling.
The LabelOn™ Mini "Synergy" Range is a significant step up from semi-automated labeling and a great first step towards a production line.
This truly is the "Mini" of Labeling machines. Everything you would find in a  larger machine and outgunning all competitors in this small footprint label machine arena as well as MANY larger footprint machines.
Compared to our Standard LabelOn™ Mini Range Enhanced features include:
PLC and Touch Screen Control

Higher Labeling Speed

Taller Standard Label Head (apply taller label)- and two even taller label height range options

Larger Capacity Label Roll Holder

Speed Synchronization of Label Head with other moving modules on the machine

This is a big enhancement not found on The Standard range of Mini machines

Improved Label Head Mechanics

Easier Access Electronics
IF you move forward with a LabelOn™ Mini Synergy you won't look back as your operators will become familiar with mechanics and controls that are very similar to our full-size production machines.
Chat with us at www.adeneli.com or call us toll-free at 844-ADENELI (844-233-6354)