Induction Sealing
A well-made product is in itself, an accomplishment. But in today's world, where even the packaging is an important factor that needs to be considered, great emphasis is put on how the package can meet the consumer's needs.  Traditionally, there were just some materials that could not be packaged into containers without the risk of spillage or contamination. But now, thanks to induction sealing equipment, this is no longer a problem for a manufacturer. 
When to Use?
Induction sealing is simply the application of a liner within the bottle cap which is then used to seal the mouth of the bottle with the use of induction heating. The bottle, already with its intended contents, will pass under the machine head and be sealed without worrying about any contamination. The process is quick and can be fully automated. It is also suitable for a variety of materials including plastics and glass containers, which in the past, could be damaged through the more traditional sealing processes. 
What are the advantages of Using Induction Foils?
Over the years, it was a struggle to figure out how plastic packaging could be sealed without damaging either the bottle or its contents. With the advent of induction sealing foil, this is now just a memory and is no longer a hindrance to manufacturers. 
Induction seals or induction foils are cost-effective means to ensure quality sealing. They are leak-proof, meaning you won't be getting complaints from angry customers. Induction liners are also tamper-evident, which makes them ideal for pharmaceutical products and can serve as a deterrent for the young ones who may accidentally get into their parents' cabinet drawers. Another advantage is that these induction foil seals can increase the shelf-life of the products they protect, thereby benefiting you as the manufacturer as well as your consumers. The induction cap lining materials prevent moisture build-up as well as oxygen from the outside environment from getting into the package, extending your product's shelf-life.
SealerOn™  offers both High-End Medium Priced Induction Sealing Equipment and Entry Level Low-Cost Induction Sealing Machinery.
Click Here to View our range of machines.
The SealerOn™ Induction Machine range is offered to achieve Optimal: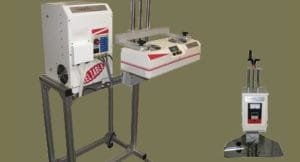 Machine Value

Entry Level Induction Sealing

Reliability

European Compliance (safe) Equipment
Depending on the range of caps/lids shapes, different SealerOn™ Sealing Heads are offered.
Features incorporated into this induction sealing range include:
Air Cooled
Simple Controls
Semi-Automatic Induction Sealing Option
Capless Semi-Automatic Induction Sealing Option
Mid Level Automatic Induction Sealing Option
Emergency Stop on Mid Level Unit