Label Applicator
A machine can be a masterpiece of forethought and engineering. One machine can look very similar to another yet it is the thinking of the Engineers who design the machine and the evolution of the machine's development that determine the "character" of the machine.
In this article we examine one of the more critical and challenging functions of the label applicator where the machine must pre-orientate the products prior to labeling.
In the end, the only thing that begins a label feed is a product sensor. From the point of product sensing to label application there is a programmed delay before a label is fed to meet the surface of the product. Two identical bottles can end up with very different label placements if they enter and move through the machine with different alignment or a slight tilt.
Flat sided bottles are usually the easiest to initially align. Flat guide rails either side will help provide near identical alignment for the flat sided bottle. In the flat sided bottle the self adhesive label will need to be wiped on with a brush. This wiping action can retard or knock a bottle; especially if it is empty or light weight. If two labels, front and back, are being applied to a flat sided bottle, any disruption to the smooth and continuous flow of the bottle past BOTH heads can result in significant label placement variation and possible label creasing. To maintain smooth product flow through a label applicator, the flat sided bottle is usually aligned with guide rails and then clamped to the main conveyor with an overhead conveyor for the duration of the process. While many machines may look like they are doing an identical job with a main conveyor, guide rails and an overhead conveyor, there are some machines like the LabelOn™ that understand how variations in the product height can occur and what needs to be designed into the machine to cater for these variations. Typical label placement accuracy for Flat Sided bottles should fall within +/- 1.0 mm
Oval bottles need more than guide rails to align them for a consistent passage past heads. With only one points of contact on the radius of each side of an Oval bottle that bottle is quite free to pivot to one side or the other which results in significant label placement variations and possible label creasing during wipe down. A number of options are available to align such oval cross section bottles and these can include:
Reciprocating Clamps

Aligning Chains

Aligning Wheels

Conveyor Pucks
The method most commonly employed is Aligning Chains as this provides for a module that provides a significant amount of alignment for a range of oval products without the need for change parts.
Typical label placement accuracy for Oval Sided bottles should fall within +/- 2.0 mm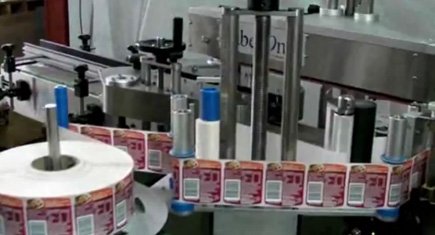 While it may appear less critical how a round bottle is orientated prior to its , in most cases a round bottle will need to enter into an area where it is spun while a label wraps around its outside. The round bottle needs to commence its spin smoothly and predictably from bottle to bottle.
In this case guide rails are critical but so too is the speed matching of the conveyor speeds involved. The geometry of a round bottle is such that if you spin a round bottle's surface at twice the speed of the conveyor it sits upon, the base of the bottle will continue to move at the same speed as the conveyor.
When you consider the purchase of a machine a critical area of the machine design to consider is how it is designed for straight forward intuitive adjustments for highly consistent product movement through the label applicator