LabelOn™ Basic is the range of equipment we offer clients on a tight budget with more basic requirements. You get what you pay for, only with the LabelOn™ Basic you also have the benefit of equipment closely related to the LabelOn™ Modular range; an unparalleled labeling machine range in its class of in-line labellers. With this LabelOn™ Basic range you can get a very clear picture of what measures are taken to achieve a more basic and more budget machine that will fit the requirements of those under budget pressure to get a job done as efficiently as possible.
Basic Labeling Machines for Round Product Labeling
The LabelOn™ Basic range includes three models that can label Round Cylindrical products:
LabelOn™ Basic 500 – Wrap up to 85% Wrap labels.
LabelOn™ Basic 500 – VW up to 95% Wrap labels with the option to label 1 or 2 Labels.
LabelOn™ Basic 500 – BCD up to 100% Wrap labels with the option to label 1 or 2 Labels and the additional option to label with orientation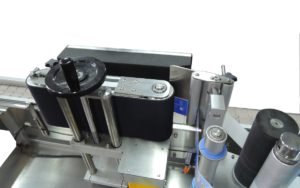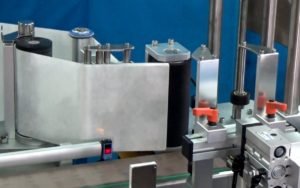 Labeling Machine Features:
Repeatability – All Electronic settings/parameters of your production job can be saved on the touch screen allowing exact repeatability between runs.
Touch Screen Controls – has easy to use and and easy to understand su_buttons. There is also machine status information and troubleshooting menus.
Five Phase Stepper Motors – The label heads are fitted with high resolution Five Phase stepper motors enabling for smooth and very accurate label feeding.
Auto Setting Label Gap Sensor – The Sensor will pick up on different types of baking paper and adjust the label gap sensor automatically.
LABEL SPECIFICATIONS THAT CAN BE CATERED FOR:
Label minimum thickness – 70micron

Label reel core size 76mm inside diameter

Label reel outside diameter 380mm (std)

Label minimum size – Vertical 15mm/Horizontal 15mm

Label web maximum height –155mm (selected at the time of order)

Label gap minimum size – 2.5mm
LABELING HEAD SPECIFICATIONS:
Speed Synchornised to Label Feed

Dispensing speed minimum – 5m/min (Standard)

Dispensing speed maximum – 30m/min (Standard)

Label accuracy ± 1.00mm – not including variations due to the Bottles or Labels

Stepper motor drive – 5 Phase – Note older machine designs use a 2 Phase Motor that is more Coarse and Hot in operation

Missing label detection (Standard)

Low-level roll detection (Standard)

Un-locked Drive Roller Assembly alarm (Standard)

Clear label gap sensor (optional)
LABELING MACHINE CONVEYOR:
Conveyor speed 5 – 30 m/min (Standard)

Conveyor Height 820mm – 870 mm (Standard)

Conveyor Length 2000 mm (Standard)

Conveyor material – Plastic Slat/Stainless Slat/ PU Belt/Rollers

Conveyor widths – 105mm (Standard)

Conveyor Non Stalling Motor Drive with Continuous Speed Feedback (Standard)
MODULES:
Bottle Separator

Wrap module (85% wrap or less) or

Vacuum Wrap (95% Wrap or less; 1 or 2 labels) or

Bottle Capture Device (100% Wrap or less; 1 or 2 Labels, Orientation Labeling optional)
TOUCH SCREEN FEATURES:
Label Counter

Batch Counter

120 Jobs Memory

Missing Label Alarm

End of Label Roll Alarm

Unlocked Drive Roller Alarm
OTHER FEATURES and OPTIONS:
Overhead conveyor – Servo Motor Driven

Coder – thermal or inkjet

Aligner Spacer (Oval Bottles)

Side grip twin belt transfer system